The Second Generation - The Harrisons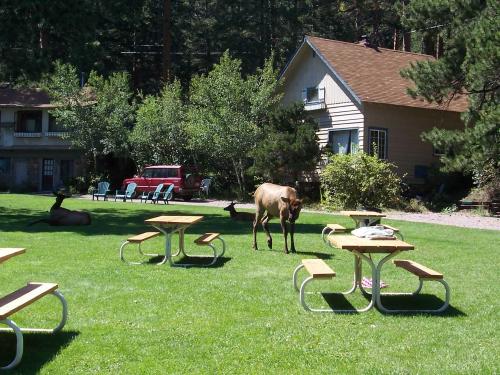 In 1964 The Bauer's sold the property to their daughter Maureen and her husband Paul Harrison, who had met at the University of Denver.
The Harrison's raised their three children while running Bauer's Spruce Island Chalets. Paul retired from teaching music and math in the Jefferson County mountain schools to join Maureen in hosting guests from throughout the country and a few foreign outposts. Paul continued to be active in the greater Denver music scene. Maureen and Paul have stories to tell about some well-known celebrities who stayed at Bauer's, i.e. the
Raitts, father and daughter, and one of the renowned Redgrave sisters who hitchhiked with her children in tow from Bauer's into town.
It was in the 70's that the higher mountain terrain housed some less well known characters. It was only after the bust was complete that Paul and
Maureen were told by their guests why they left each morning dressed in fatigues.. It seems the guests were Feds out to capture a few outlaws of the hippy variety in the "pharmaceutical" business.
After thirty years of welcoming travelers to Bauer's Spruce Island Chalets the Harrisons decided it was time to really retire. They had an urge to travel and experience life as guests rather than hosts.They wished the Retterer family well as they tried to continue operating an Evergreen institution.