Established in 1950 - The Bauers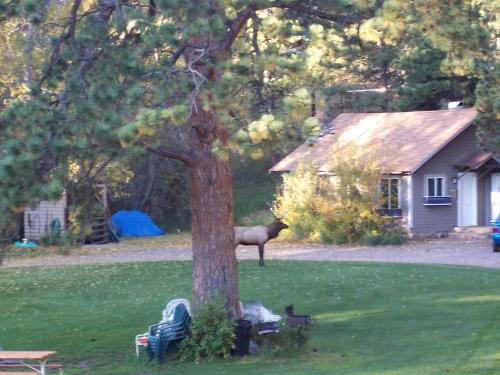 The property for the chalets was purchased in 1946 by Maurice and Mildred Bauer while operating the Royal Villa motel in Aurora, Colorado. They spent all of their spare time preparing their 20 acre Evergreen property for an eventual retirement. But as Mildred was quoted in a 2000 article in the Canyon Currier:
"In June of 1950 we had just winterized our first cabin, the Willows, had sold the Royal Villa and just planned to live a while in our favorite mountain retreat until we decided what to do with the rest of our lives."
What they decided was to re-enter the lodging business, this time in Evergreen. Not only did Maurice and Mildred bring additional lodging to Jefferson County, but Maurice was active in local governance as County Commissioner and real estate as well as many local civic groups. The couple became fixtures of the Evergreen community.
While Maurice was busy building cabins, Mildred had the green thumb and a greenhouse so she could provide flowers for the flower boxes you'll see on the cabins. It took the Bauers four years to prepare their Evergreen property for what was to come. The Willows cottage was situated between a blue spruce and Ponderosa pine in what is now the grassy picnic area.
The Ponderosa pine is thought to be one of the oldest in the area and the stand of blue spruce on the island is thought to be one of the largest in the area according to a local arborist. The Bauers moved the Willows to its current position by the creek by placing it on logs and rolling it the 30 yards or so to its current place near Cub Creek. The original infrastructure was a hand dug well and cistern and a simple septic system.
The first rentals were two one-bedroom apartments above their garages. in what today is known as the fourplex with two one-bedroom apartments and two Studios. The following years Mr. Bauer built the Ponderosa and Blue Spruce Chalets which were purchased from Sears Roebuck as kits. But he constructed the pine doors that are still on some of the cabins. They then re-purchased the Kinnikinick property, which is now the manager's unit and office. They had sold the Kinnikinick property in the fifties to provide college educations for the Bauer's children. A deep well was dug to provide water for the entire property. Septic systems were expanded to service the expanding guest count.
When they sold the inn to their daughter Maureen and her husband Paul Harrison in 1964, Mildred and Maurice moved to the "little house on the hill" which he also built. Maurice passed away in 1989 and Mildred stayed in the house on the hill until her mid 90's when she finally left her mountain retreat for assisted living. She was a force in her new community until her death well into her 100's.